Product information is often hold by several services
Management and synchronization of data from multiple sources
80% of the data needed for the PIM are contained in the PLM
What is the Product Information Management (PIM)?
The challenges of product information management
The highly competitive and global market in which the Fast-Moving Consumer Goods (FMCG) industries or retailers operate pushes them to innovate and launch new products as quickly as possible. Managing an ever-increasing volume of information in less time represents a real challenge. But a wrong product information management leads to many risks, such as:
Scattered and duplicated data in different locations
Mistakes in the design process of the new product: erroneous document updates, information retrieval, etc.
Lacking precision to meet regulatory requirements, eg.: correctly filling the Product Information File (PIF) while launching a cosmetic product.
Inconsistencies between the product information and the information displayed on the website
For industrials as for retailers, product information is often held by several services. They each have a piece of it, or even worst, a duplicated part. Thus, it seems obvious that product information must be consolidated to get a global picture of the product data, which has to be diffused both inside and outside the company: sales catalogs, e-commerce, advertising, etc.
To prevent these risks, professionals need tools able to centralize and structure the product information. The solution for effective product information management lies in a central repository that offers a "single version of the truth", providing continuity throughout each step of the product lifecycle.
PLM and PIM: manage all product information
The main objective of compiling product data for internal services is to secure the product innovation and evolution processes. The right contributor must be able to enrich and communicate the right piece of information at the right time. Otherwise, the risk to lengthen the time to market sharply increases mistakes on product information, miscommunication between departments and others. That is true for both industrials and retailers, whether they develop branded products or private label products. This is where a PLM software is needed.
On the other hand, when product information has to be diffused for a sale or promotion purpose, it is quite never gathered in a single place. This is not an organizational flaw but rather the consequence that requested data is held by services and software too different to be managed in a single place: technical and legal data (PLM), production data (ERP), commercial data (CRM), etc.
Furthermore, in that case, product data has to be diffused through several channels that do not require the same quantity and type of data. Published languages also have to be considered. Ultimately, someone has to validate the completion and the quality of product information before broadcasting it. This is where a PIM software is needed.
PLM and PIM Software: What Are We Talking About ?
To support product information management, more and more companies rely on software solutions such as PLM (Product Lifecycle Management) or PIM (Product Information Management). Yet the positioning between these two solutions remains vague. The often similar descriptions of PLM and PIM, both of which refer to product references, can be confusing for industrials and retailers.
In reality, for product information management, the PLM / PIM couple is an excellent combination. Each of these solutions manages its own functional scope to create continuity of information and full visibility into the information supply chain.
A PLM contains the majority of the product information feeding a PIM software. All data required for product innovation such as marketing data, technical data, regulatory data are already managed by the PLM in several languages. The few remaining pieces of information about logistics, current price and product availability come from other sources: ERP, CRM, documents, manual input, etc.
Product Information Management: How do PLM and PIM Software Interact?
The core benefit of PLM is its capacity to centralize all data and documents throughout the entire product life cycle: from its creation to its market launch. The PIM focuses on the management and synchronization of all product data from multiple sources to ensure an efficient and accurate diffusion to the dedicated publishing solutions.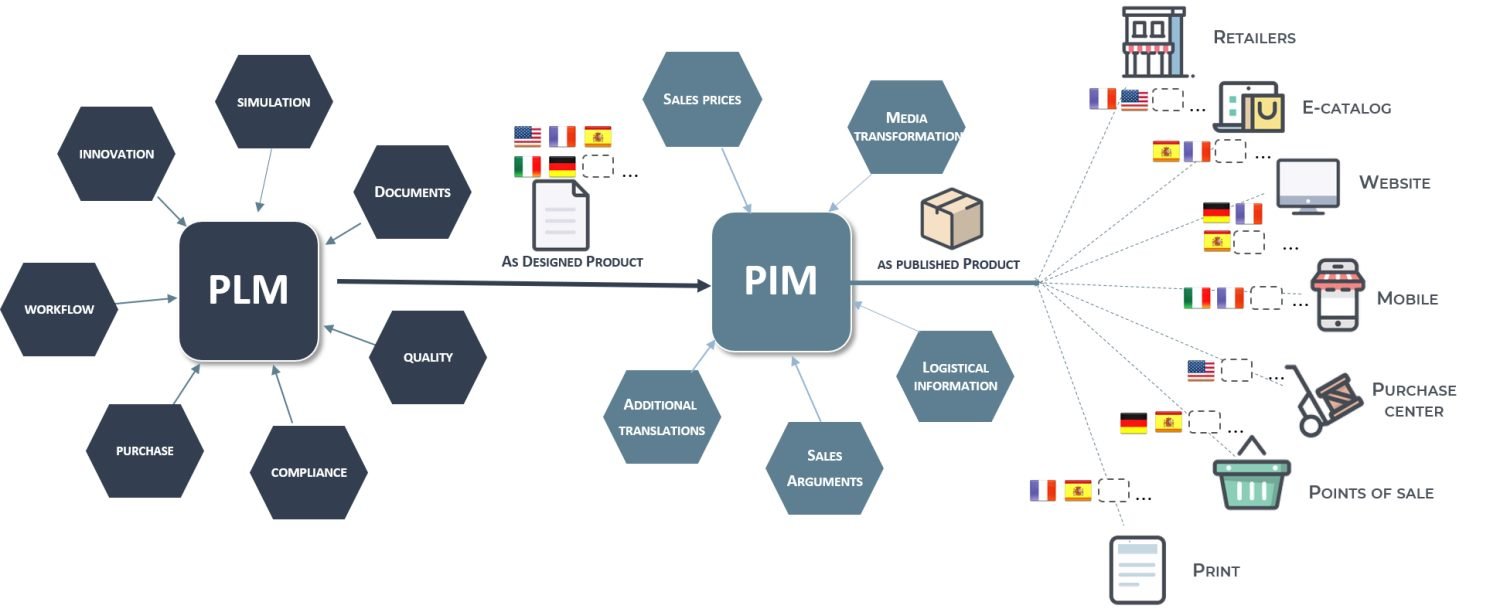 How Do I Choose Between a PIM Software or a PLM Software?
Currently, the need for a consistent product information management solution becomes evidence for FMCG industries and retailers. By combining product information and product lifecycle management, companies strongly strengthen their performance. Though, it is possible to prioritize which solution to commit to first.
PLM SOFTWARE: INNOVATION AND PRODUCT DEVELOPMENT PRIORITIES
Structure and manage Innovation
Improve product design
PIM SOFTWARE: YOUR PRIORITY IS DIFFUSION ON WEBSITES OR E-COMMERCE PLATFORMS
Control data completeness
Share and communicate easily with e-catalogs, websites, etc.
Improve sales cycles