"I waste time chasing data around all departments"
"I have to recheck all information about regulated substances"
"How can I quickly check the regulatory compliance of my formula?"
Compliance management challenges: data collection
To comply with regulations, businesses need to manage a large volume of data and documents. Information and data are often spread out between the different departments of a business, leading to additional time-consuming and error-prone manual tasks. It is challenging to obtain the allergens list or claims of a finished product without having all information about the raw materials used. It is also challenging to ensure that claims and allergens are accurately displayed on labels (e.g.: allergens in bold, claims, size, etc.). Food and Beverage businesses need to have in place a library of the raw materials' nutritional values, otherwise, they cannot correctly calculate and declare the nutritional values of a final product. Cosmetics companies must retrieve information to create the Product Information File (PIF) and ensure cosmetovigilance. Whether you are in either of those sectors, data collection is a critical issue, requiring tracking a lot of raw materials' information, from suppliers' specifications to labels.
Solution
Ensure regulatory compliance with a single database
Consumers are paying more and more attention to products composition and how it will affect their health. Product label is the only way they can get information about composition. Using Aptean PLM Lascom Edition you enjoy a database that stores and consolidates all information related to the product's components, including characteristics, documentation and final product specifications, in a single place. Templates structure data, allowing links between information or documents. With those templates define which information is needed, and automatically fill in them with the required information and automatically generate documents (PIF, SDS, etc.).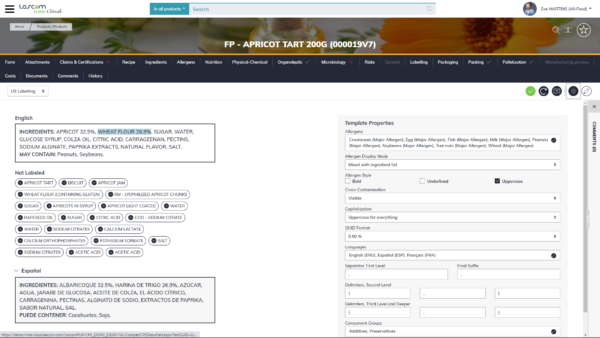 Regulatory compliance management challenges: regulated substances
During product formulation, all the substances used in the product formula or recipe must be authorized in the country where it will be sold. Banned or regulated ingredients are frequent in many countries and regions but they vary according to regulations being implemented. In addition, some products are completely banned and some others have to be used in maximum concentration. In cosmetics, concentration can be different per product category, for example with rinsed or non-rinsed products. Product typologies must also be considered, a face moisturizer won't have the same regulations as a fragrance. In food and beverage, companies must apply restrictions like maximum levels and assess if all the ingredients, including additives, are allowed in the specific product category for specific regulation. Allowance and limits for potential additives and compositional ingredients can be different for each country of commercialization of a product. Thus, it is compulsory for a company to know all the associated regulatory frameworks.
Solution
Secure regulatory compliance using automated calculations
Creating a compliant formula/recipe is the first step to the finished product compliance. When checked at an early stage, the rest of the development process can proceed safely reducing risks of formula/recipe changes. Using Aptean PLM software Lascom Editionand its automated calculation features, you can ensure formula/recipe compliance and save time. For example, the PLM will automatically highlight if a substance exceeds the maximum threshold according to the brief requirements (blacklist, customer requirements, regulations …).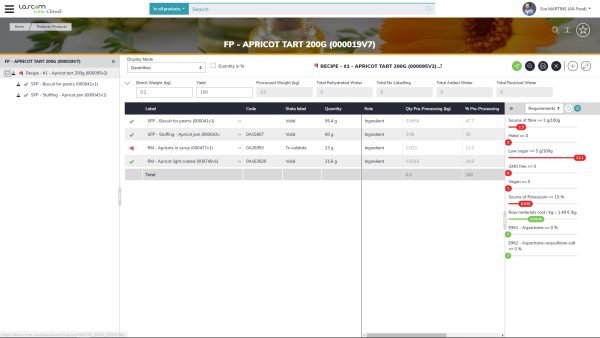 Compliance management challenges: specific regulations
Labels are required to follow specific regulations, which vary, from one country to another. It is crucial to know all applicable regulations. Moreover, if you market your product in multiple countries, you may have to translate every item of the label (e.g: ingredients, values, etc.). It is a time-consuming process to ensure, every time, that the translation used is the correct one and that it follows the regulations in force, especially regarding the nutritional values displayed on packaging. Indeed, it is important to not only translate a claim but also make sure the wordings are lawful in the country.
Solution
Guarantee compliance using a labeling tool
Using Aptean PLM Lascom Edition, you access a powerful labeling tool. Once declarative list is established it automatically edits the list of ingredients and calculates the quantity of each ingredient, based on the composition of the recipe and according to country-specific regulations. You can decide to automatically generate the ingredients list and nutrition facts in any chosen languages managed by the system. It indicates the presence of allergens, with the possibility to list the allergens mixed with the ingredients or below the ingredients statement.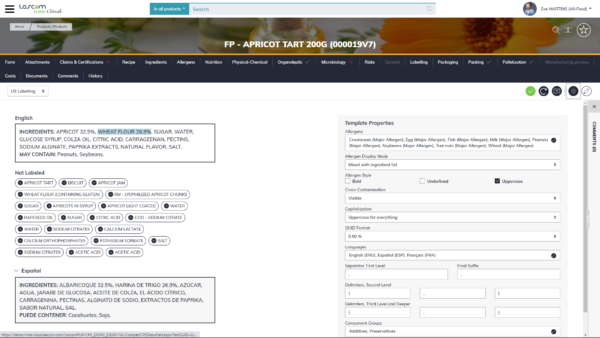 Global Market and Compliance management: what our customers say!
"With Aptean PLM Lascom Edition, everybody has access to the same information at the same time. We save a lot of time!"
"Having features that are specific to each business unit has been life-changing as we are able to generate regulatory documents automatically"
"What's most important for us is that the formulation is compliant with the most current version of AAFCO"
Compliance management:
what matters
European Regulation 1169/2011 labeling Tool:
Automatically generate the list of declarative ingredients and nutritional values ​​of food products in accordance with European regulations.
FDA and USDA labeling tool:
Automatically generate the list of declarative ingredients and nutritional values ​​of food products in accordance taking into account the constraints imposed by American regulations.
INCI Labeling Tool:
Automatically generate the INCI list as well as the qualitative formula and the quantity of cosmetic products, taking into account the requirements of cosmetic regulations.
Product Information File (PIF):
Automatically create the file containing all the PIF documents of a product.
Cosmetovigilance:
List and centralize all information concerning the undesirable effects linked to the use of cosmetic products.
Safety data sheet