"How can I be sure my cosmetic product complies with local rules in this country?"
"Our cosmetic product information is not well distributed or structured"
"I spend too much time retrieving information to create the PIF."
"How can I be sure my cosmetic product complies with local rules in this country?"
With globalization, manufacturers market and sell their products in different countries. Ensuring compliance with the regulations in force in every country where a product is sold can be very complex and time-consuming for manufacturers. Each region, country and even state, in the US, might have its own, different, rules regarding cosmetic products. Regulations are evolving quickly in response to consumer demands for traceability and safety, making it even more difficult to track for businesses. Selling cosmetics has never been tougher. Product formulation, packaging, labeling and advertising are subject to many rules. In the European Union, you must follow Regulation (EC) No 1223/2009, in the US, it is the Food, Drug and Cosmetics Act, but individual states can have their own restrictions (e.g. California with Proposition 65, etc.) and in Canada, rules are defined by the Cosmetic Regulations. In addition to country-specific rules, governments can be party to international agreements such as Good Manufacturing Practice (GMP) or the Globally Harmonized System of Classification and Labeling of Chemicals (GHS)
Solution
Ensure the compliance of your cosmetic formulation and labeling
During product formulation, you need to be certain that the substances used in the product are permitted in the country where it will be sold. Many countries and regions have banned various ingredients, but these vary according to the regulations enacted. Moreover, you might have blacklisted some substances you do not wish to use in your products. Using an automated formulation tool, you will be able to quickly check the compliance of the quali/quanti formulas: allergens, traces and impurities concentrations and whether or not they need to be reported. Thresholds for substances (such as volatile organic compounds) and allergens are entered and updated (*) on the system on a regular basis for each sales country so that teams are warned in real-time if the formula fails to meet requirements. You receive immediate results from your prototype testing. The product is either compliant or it is not. If not, reasons are given so that it can be easily changed. Finally, labeling compliance is made easy with automated generation of ingredients based on the INCI list and requirements.
(*) By your own means or via Aptean PLM Lascom Edition regulatory partner.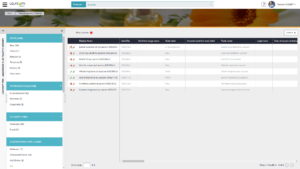 "I spend too much time retrieving information to create the PIF."
Using Excel spreadsheets or Word documents is no longer sufficient as the amount of data is increasing, and rapidly. Structured product data covering the entire life cycle is necessary to make information easily accessible, save precious time, and avoid human errors and duplication of effort. It is all the more critical as, once product testing proves that a product is safe to be sold, manufacturers must gather all the results together into various mandatory submissions. The PIF (Product Information File) is the most complicated as it requires information to be gathered from several stakeholders, including suppliers, laboratories, safety assessors, and internal product information systems. As a result, cosmetics businesses need to use professional software to assist them, and optimize their product information management and document generation.
Solution
Master electronic data management and file generation
Using our Aptean PLM Lascom Edition, collecting, analyzing, and storing data has never been simpler, as the same system is used by all the company's departments and suppliers – thanks to a supplier portal. All the data, documents and product information, including information on raw materials and Safety Data Sheets, are centralized in a single system, saving time and improving accuracy and product safety. Collaboration between your teams and your suppliers is simplified.
Thanks to PLM and its ability to structure data, you can automatically generate all the required documents (Product Information File, CNF, etc.) in one click. Templates, requested documents and information are pre-defined allowing you to easily check, approve and create any submissions required for product compliance.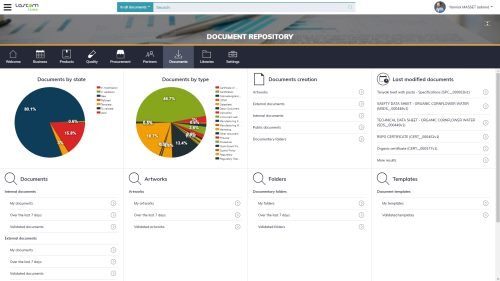 Cosmetics Regulatory compliance: what our customers say!
"Having features that are specific to each business unit such as PIF generation for the regulatory affairs department has been a game-changer for the team"
"We think Aptean PLM Lascom Edition is the best tool out there for what we want to do. Also, we want Lascom from Aptean to help us build the best design chain".
"With the strategy and innovation brought by the Lascom from Aptean team, we will continue to solidify our legacy."
Cosmetics Regulatory compliance: what matters
Centralize and share key information and ensure data continuity
PLM offers a structured, single source of information. Since information is paperless and stored in one place, it is simple to create templates and automatically fill out those templates with the required information. Generating accurate regulatory documents has therefore never been easier. Information is easy to retrieve thanks to our Information search engine.
Comply with any country-specific regulations
Aptean PLM Lascom Edition will save you considerable time as each finished product formulation is checked to evaluate compliance with regulations in the country of sale. You can check formulation conformity in one click, automatically generate an INCI ingredient list for product labeling, create regulatory templates, access regulatory experts, and generate and review required documentation and submissions (PIF, CNF, etc.)