Food and Beverages formulation is a field where the rules change often and suddenly.
There are multiple product types, demanding a flexible solution.
Prototype management is a crucial step towards product success.
Formulation challenges in Food and Beverage: compliance
Formulation is one of the most decisive factors in innovation. In the Food and Beverages industry, R&D teams face significant challenges such as regulations, business constraints, cost management, multiplication of prototypes, quick changes to recipes, changes in raw materials by suppliers, and more besides. Manufacturers assess their product formulations and recipes continually, to ensure that business targets are met. At the same time, businesses have to comply with customer and regulatory requirements, in order to maintain product quality and profit margins.
When creating new recipes or formulas, it is, therefore, crucial to correctly manage allergens and health claims, as well as considering raw materials prices. Indeed, formulators have to make sure that the cost price of a new recipe stays within the objective set by the brief.
Having to juggle all the various requirements, yields, losses, raw materials and manufacturing costs, etc., while managing different versions of a recipe, can quickly become very challenging.
Food and Beverages companies require firstly highly effective cost management, and secondly comprehensive rules management, so as to always adhere to, and stay up-to-date with, the latest regulations.
Solution
Formulate a compliant food product
Formulators have the tough job of meeting not only regulatory requirements but also briefs/specifications and customer requirements. Our software delivers a robust formulation management solution, providing real-time cost and nutrition calculation and optimization, and allergen management to R&D professionals. Our PLM software provides a comprehensive and permanent view of your product's bill of materials. It alerts you to any non-compliance against the original brief (additives threshold, health claims, etc.) or conflict with any regulations in force. It automatically calculates the product's nutritional value table, ingredients statement, allergen list, materials cost and so on. It then uses this information to generate labeling in all languages required, in line with marketing and regulatory requirements.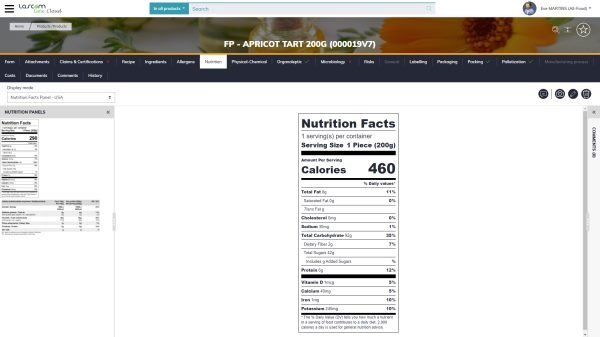 Formulation challenges in Food and Beverage: product types
Formulation is not the same for ice cream as it is for ready meals. For instance, a dairy company must follow fat and protein levels, while a bakery company should focus on moisture. For other products, the key value might be costs. There is consequently a wide range of different needs in formulating a food and beverage product. An unsuitable solution might meet some of your needs but will not provide flawless support in your formulation processes, and could eventually become more of a hindrance than a help. Lack of flexibility and adaptation in formulation can lead to errors if your attention is not drawn to some key values.
Solution
Food formulation software that adapts to your product categories
Our PLM is a flexible web-based solution able to assist you formulating any type of product. On the basis of your product portfolio, you can create various customizable formulation templates with a full web editor. Whether you are a pet food company (calculating specifically AAFCO nutrient profiles, for instance), a ready meals business (calculating allergens, human nutritional values, costs & certification list) or a manufacturer of multiple product types, you can define your own template to meet your needs.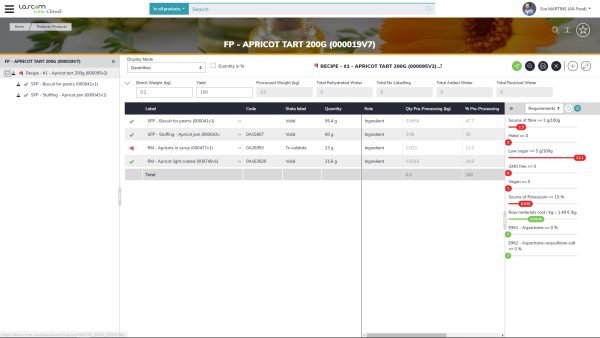 Formulation challenges in Food and Beverage: prototype management
Do you struggle to retrieve previous prototypes or versions? Are you required to formulate with only approved raw materials?
A product's compliance with marketing, quality and regulatory requirements can't be tested or approved before the prototype phase. You need to be able to produce prototypes quickly. To do so, R&D teams need access to existing raw materials but they also need to be able to formulate using those pending approval that they nonetheless identify as relevant. In addition, it is critical to quickly locate existing prototypes that match, or approximate to, specific client requests. In conclusion, R&D teams need to access the right information (validated raw materials or samples, previous recipes, and so on) at the right time.
Solution
Food formulation software: manage prototypes effectively
Aptean PLM Lascom Edition's formulation tool comes with access to the USDA National Nutrient Database for Standard Reference and the CIQUAL database, one of the most complete in Europe. You can therefore create new formulas from scratch, using these databases to create new raw materials with nutrient information already available. Users are able to create or adapt a product or a recipe from the database with a few clicks. R&D teams can create, modify, review, edit and update formulations through a user-friendly interface.
Prototypes are stored and can be easily shared for comparison and approval. R&D staff can send a set of prototypes to Marketing, R&D and Quality managers for comparison of recipe prototypes based on ingredient lists, allergen lists, nutritional specifications, health claims and costs so you can select the one closest to the original brief. As your iterations progress, the formulation software stores the history of your prototypes so that the Research & Development team can easily access and capitalize on past experience.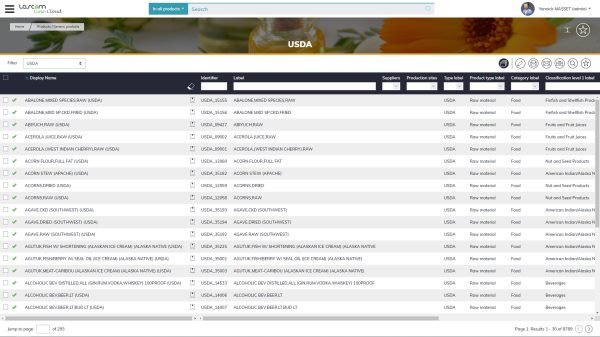 Food and Beverage Formulation:
what our customers say!
[Aptean PLM Lascom Edition] is definitely a precious time saver and error eliminator which frees the minds and skills of our formulators.
With Aptean PLM Lascom Edition, we were able to make our data more reliable and to work with traceable validation processes.
Our goal of a single, reliable, and secure source of product information that we can all tap into has been achieved.
Food and Beverage Formulation:
what matters
Share information
The core element of PLM technology is to provide a single and centralized base to manage all product, project, and packaging related specifications. This ensures a single version of the truth.
Speed up formulation
Manage product composition and specifications, quickly formulate and optimize recipes and create formulations following specifications (price, nutritional value, allergens, etc.) using our powerful PLM formulation tool with access to USDA and CIQUAL databases.
Comply with initial specifications and regulations
PLM will reduce lead times, error rates and development costs while monitoring compliance and identifying the presence of allergens & health claims.
Capitalize on knowledge
PLM saves and keeps a traceable history of past and current recipes and prototypes.
Automate
PLM automatically calculates numerous key values and generates nutritional values, costs and ingredient lists) for product development and generates required contents and documents.
Analyze
PLM gives you all the information needed to determine risks and feasibility of products (allergen list, GMO, costs.)