"Do my product and its ingredients comply with local rules in this country?"
"I spend too much time trying to sort out data instead of ensuring product compliance."
"I waste time double-checking the accuracy of supplier information."
"Do my food product and its ingredients comply with local rules in this country?"
The food and beverage industry must comply with an increasing number of guidelines and restrictions that vary by location. Changes in regulatory requirements can be related to substances, labeling, health claims, origin of ingredients, and packaging, and they can entail significant differences from one country to another, impacting every department of a company. Indeed, allowances and limits for potential additives and ingredients can be different in every country where a product is sold, with nutrition and health claims differing significantly in terms of wording and conditions of use.
Regulations affect every step of product development, from R&D to marketing, via procurement and quality. Companies need regulatory intelligence to stay up to date with the latest regulations, and need to store new guidelines, and importantly, be able to retrieve them easily during any formulation process. Product development becomes more complicated with the growing number of regulations to follow. To avoid wasting R&D time or, worse still, problems with consumers and non-conformity issues, detecting errors quickly is critical. Non-conformity can be both costly and damaging for a brand image and dealing with it can quickly become cumbersome and overwhelming.
Solution
Ensure compliant food products with Lascom from Aptean software
To ensure compliance, food and beverages companies need accurate management of vast quantities of data and documents. Lascom from Aptean offers a Product Lifecycle Management solution, supporting food companies in overcoming these regulatory challenges. Using our solution, R&D departments can customize real-time indicators and alerts to continuously assess the conformity of the product currently in development. Searches can be run for health and business claims (vegan, gluten-free, etc.) compatible with the recipe for a specific market or a single customer to leverage the full potential of your innovations. You also gain the benefit of a labeling tool that automatically generates compliant labels and nutritional statements. The software facilitates country monitoring and helps users when new rules are known to have an impact, considerably increasing efficiency and responsiveness.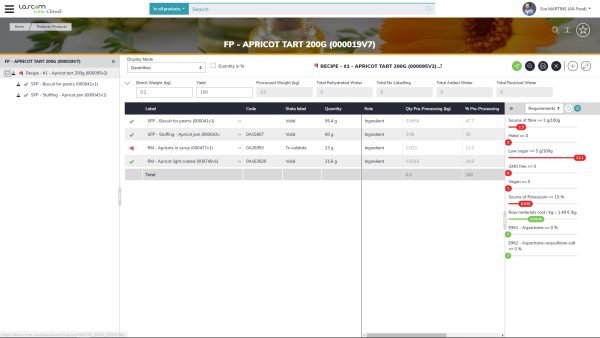 "I spend too much time trying to sort out data instead of ensuring food product compliance."
Product development needs to be more and more innovative while putting successful products on the market becomes an increasingly complex matter. It is crucial for food operators to have a complete overview and control of product development in order to manage product information.
Information is key during product development, and having the right information, in the right place at the right time is critical. However, managing a large amount of data can be difficult when there is no proper procedure in place. Compliance/regulatory and quality departments deal with a large amount of data. If there is no structure or process in place to manage, classify and save the data in a consistent way, then the various teams will be less efficient. It is then obvious that resources are being used on non-value-added tasks.
Solution
Achieve regulatory compliance starting with effective information management
With Aptean PLM Lascom Edition, businesses are able to easily structure information, ensure data continuity from suppliers to consumers and improve collaboration. Frameworks support the entire product life cycle, from marketing brief to end of life. Lascom from Aptean's solution includes workflow features which automate processes, enhancing collaboration and speeding up product development.
Authorized users have access, via the solution, to a single source of structured information, which significantly reduces time and effort spent on non-value-added tasks, such as searching for information. Our integrated Full Text Search engine allows you to search and filter your whole database based on keywords, ingredients, claims, nutritional values, dates, and so on.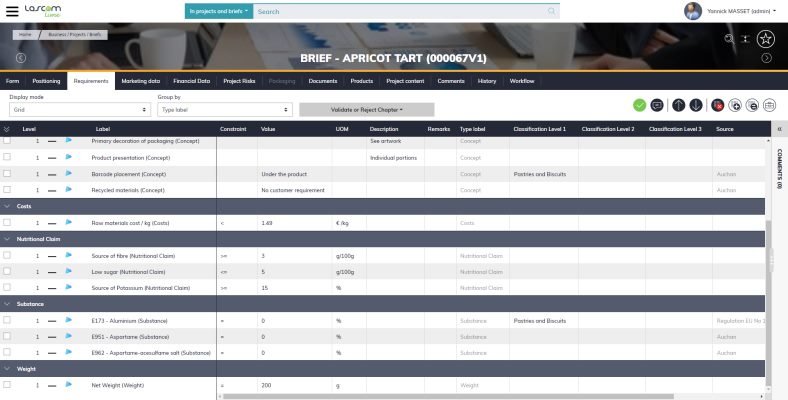 "I waste time double-checking the accuracy of supplier information"
Food and beverage manufacturers often have to deal with a precise list of requirements or schedule of specifications from their customers. They must respond to these proposals quickly. Developing a product in accordance with customer requirements and/or regulations begins with having an impeccable raw materials and packaging database. Companies should not have to spend time chasing supplier information, product information sheets or double-checking information accuracy. If a new product needs to be developed, it is also important to have a single source of information to perform an advanced search in order to easily find specific raw materials that meet the client's needs, (e.g. allergens, health claims, etc.)
Solution
Facilitate exchanges with your external partners to ensure compliance through collaboration
Streamlining communication and collaboration with partners such as suppliers, food testing specialists, regulatory experts and creative agencies ensures compliance from the outset. Thanks to its powerful supplier platform, it is possible to track any information and data (e.g. certifications, country of origin of raw materials, etc.). Information received and sent from/to your external stakeholders is always structured in the same way. External partners will become more proactive in submitting information which will improve the cooperation process. It will also increase their accountability as they will be responsible for updating the required information. This also enables companies to automatically establish a link between the various aspects of product information, from raw materials to finished product.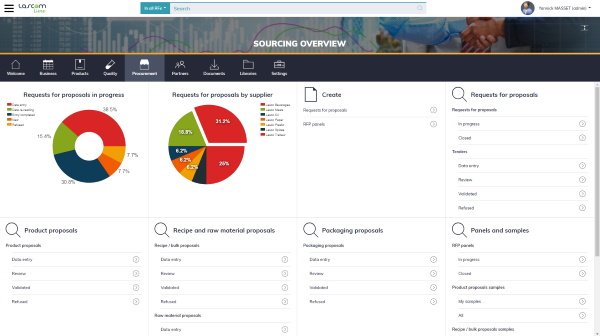 Food and Beverage Regulatory Compliance software: what our customers say!
"Searching for information is much faster in Aptean PLM Lascom Edition, boosting our productivity."
"Our goal of a single, reliable, and secure source of product information that we can all tap into has been achieved."
"What's most important for us is that the formulation is compliant with the most current version of AAFCO"
Food and Beverage Regulatory Compliance software:
what matters
Centralize and share key information and ensure data continuity
PLM offers a structured, single source of information. Since information is paperless and stored in one place, it is simple to create templates and automatically fill out those templates with the required information. Generating accurate regulatory documents has never therefore been easier. Information is easy to retrieve thanks to our Information search engine.
Comply with any country-specific regulations
With PLM, create regulatory templates and gain access to regulatory experts. Lascom from Aptean creates a regulatory ecosystem, which promotes collective intelligence, with the sharing and use of experts' knowledge and skills.
Ensure information accuracy using our Supplier Portal
PLM allows your suppliers and partners to add to your database in a secure environment