"Are my product and its ingredients compliant with local rules of this country?"
"I have trouble following key values in my formulation"
"Prototype approvals are time consuming as they involve many people"
Formulation challenges in Cosmetics: compliance
In the personal care business, product innovation is crucial. Sales are becoming more seasonal which demands continuous product updates. As trends and consumers' needs change frequently, cosmetics manufacturers and brands have to follow, and create suitable products. To gain competitive advantage, cosmetics companies need to be able to quickly respond to evolving customer needs and adapt to changing standards and regulations. Aggressive product innovation is the key to increased market share and consumer awareness in the cosmetics industry. Ensuring compliance with current regulations can be very complex and time-consuming for businesses. Each country, and sometimes each US state, has its own regulations that manufacturers have to follow. During product formulation, you need to be certain that the substances used in the product formulation are permitted in the country where it will be sold.  Many countries and regions have banned various ingredients, but these vary according to the regulations enacted. Some substances are restricted to a maximum concentration which again can be different not only in different countries but also across different product categories.
Solution
Formulating a compliant cosmetic product
With its web-based formulation tool, Lascom PLM enables new formulations to be created based on marketing requirements and current regulations. It automatically calculates costs, risks, generates drugs facts, warnings, etc. and manages impacts in the event of any changes. It warns you about any non-compliance relative to the original brief (blacklist, required substance, etc.) as well as infringements of regulations in force (additive thresholds, banned substances, and so on). The formulation tool then automatically generates the product's Quali / Quanti formula, an ingredients statement compliant with INCI names, the allergen list, the volume, and product costs, etc. Lascom's PLM system is supplied as standard with the INCI ingredient database, ensuring you always use the proper ingredient names.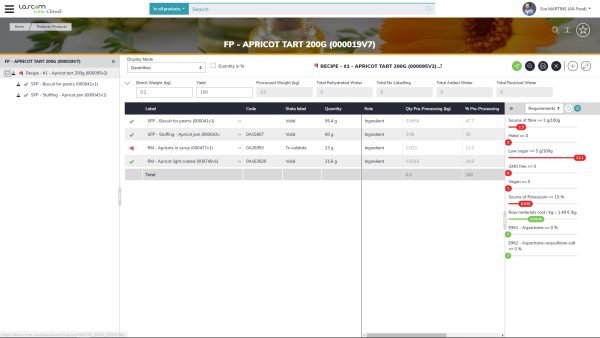 Formulation challenges in Cosmetics : product categories
Formulating for makeup is not the same as formulating for skin care. For example, a face moisturizer won't be subject to the same regulations as a fragrance. Cosmetics and personal care companies have different formulation needs. Therefore, they must have adaptable formulation software to perfectly meet their own requirements. An inflexible solution will meet some of your needs but will not provide the required level of support in your formulation process and could eventually become more of a hindrance than a help. Lack of flexibility and adaptation in formulation can lead to errors if your attention is not drawn to certain key values.
Solution
Formulation software that adapts to your product categories
Lascom Lime works as a web-based, flexible PLM solution tailored to assist you formulating any kind of product. Using the full web editor, you can create various customizable formulation templates for your product portfolio. Whether you are a perfume company, or working in skin care, or a manufacturer of a wide range of types of products, you can build your own template to meet your needs.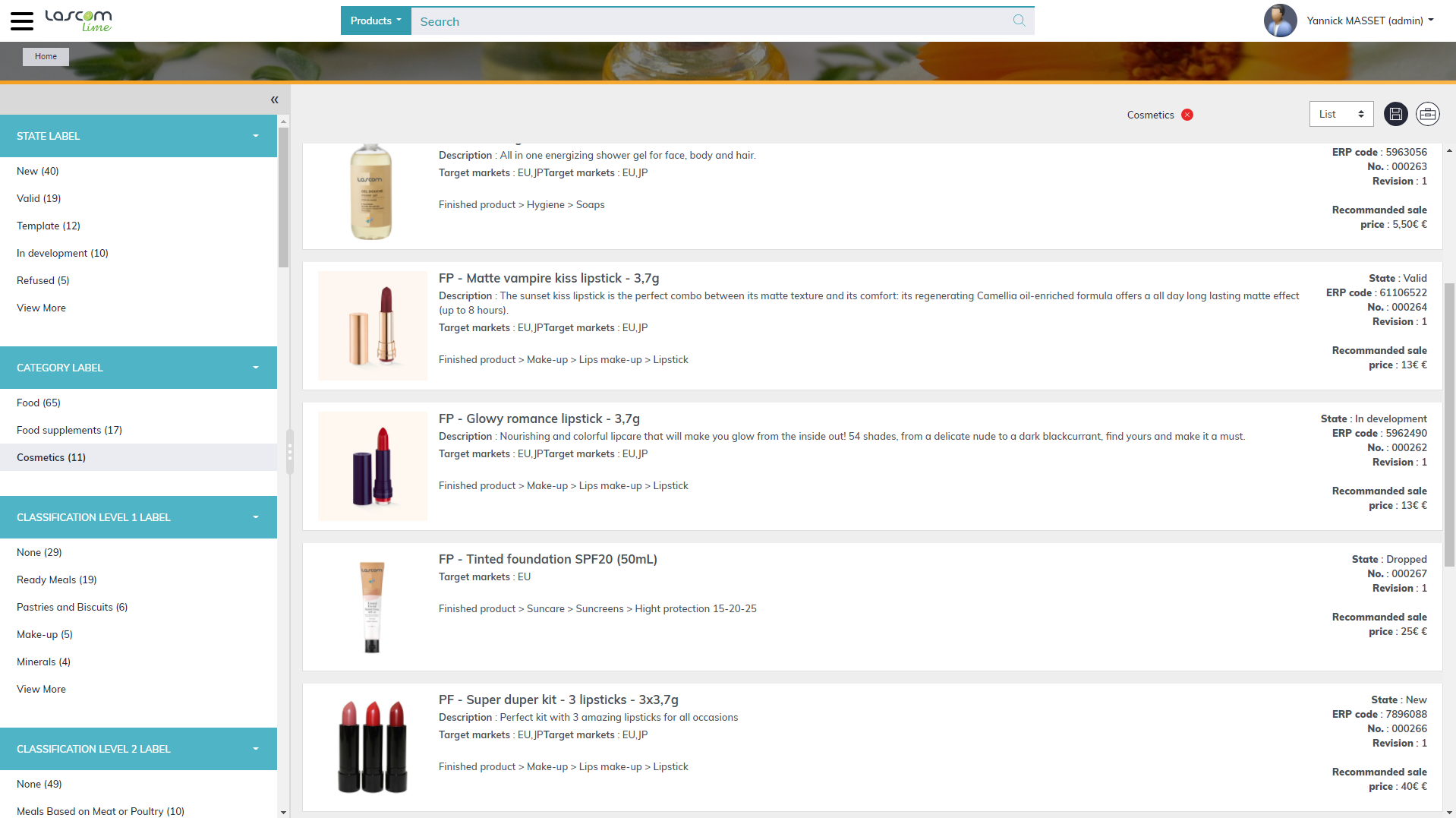 Formulation challenges in Cosmetics: prototype management
In their attempts to achieve their business objectives, companies typically run an innovation process that involves obtaining trend information, brainstorming ideas, formulating new cosmetics product concepts and creating prototypes to test the product's compliance with marketing, quality and regulatory requirements. To produce prototypes quickly, R&D teams should be able to access existing raw materials, but they also need to be able to formulate using ingredients that are relevant but still pending approval.  Being able to identify existing prototypes that match, or approximate to, specific brief requirements or client requests is a real time saver. In conclusion, R&D teams need to access the right information (approved raw materials or samples, previous recipes, and so on) at the right time.
Solution
Cosmetics formulation software: manage prototypes efficiently
Lascom cosmetic formulation software makes R&D professionals' work easier. It provides tools for formulating new products from scratch or from an existing formula. R&D teams can create, modify, review, edit and update formulations through a user-friendly interface. Stored prototypes can be sent to Marketing, R&D and Quality managers for comparison and approval based on composition, allergen lists, health or other claims and costs so you can select the one closest to the original brief. The formulation software stores the history of your iterations through prototypes and the Research & Development team can easily access them to capitalize on past experience.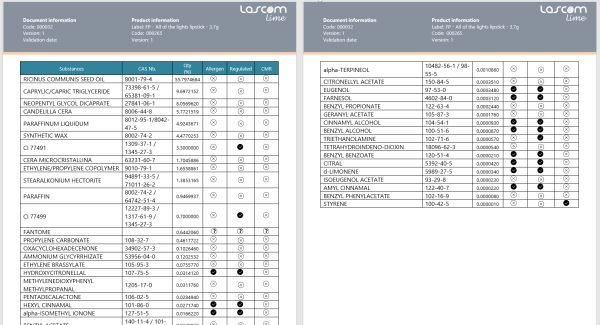 Cosmetics Formulation : what our customers say!
"Having features that are specific to each business unit such as PIF generation for the regulatory affairs department has been a game changer for the team"
"We think Lascom Lime is the best tool out there for what we want to do. Also, we want Lascom to help us build the best design chain".
"With the strategy and innovation brought by the Lascom team, we will continue to solidify our legacy."
Cosmetics Formulation software:
what matters
Better and faster cosmetics & personal care formulation and labeling management
Using PLM, manage formulation from raw material sourcing to prototypes; facilitate extensive R&D management and proportions optimization; automate INCI list generation; automatically calculate concentrations; generate quali/quanti cosmetic formula.
Centralized data and documents – including cosmetics products formulation
Lascom cosmetic formulation software ensures everyone involved in the product development process has access to up-to-date and accurate data and documentation through a customized user profile. Lascom's PLM provides a "single version of the truth" for all raw materials, ingredients and product specifications across all divisions, locations, business processes and countries. Manage raw materials' documents and data in addition to creating a product that conforms to requirements and regulations.
Simulation of product feasibility (costs, risks, etc.) and risk analysis (allergens)
Assistance with PIF and MSDS in many languages
Download the solution brief!