"The initial flow of information can get confusing when starting to work on a new range."
"We don't have the same tools as the new product development team and sometimes fall behind on deadlines."
"All our artworks are designed externally, and we waste time versioning and transferring files with our partners."
"The initial flow of information can get confusing when starting to work on a new range."
Do you feel you are wasting time gathering and harmonizing all parties' documents even though they submit them on time? Can your design partner easily access product and project data? Do you see higher levels of data handling errors when a large number of contributors are involved?
Packaging consists of a conditioning unit, a label, marketing and commercial wording, regulatory information, and artworks. It must perfectly fit each product, stay consistent through the whole range and support the brand's identity and strategy. Developing packaging involves as many experts as the manufactured product that will go inside, including in-house teams from Marketing to Regulatory Affairs, packaging providers, press and print sub-contractors, design partner agency, etc.
Being able to talk clearly and quickly to each other, avoid data handling mistakes and misunderstandings, to accurately track everyone's progress, and closely monitor your overall resources are just some of the challenges that come with such a web of parties involved. You need an environment able to deal with all the stakeholders in your design chain, tracking and reacting in real time to every user's actions and responsibilities.
Solution
Connect all those involved in your graphic chain
Aptean Food and Beverage PLM Lascom Edition can handle everyone involved in new packaging and new product development projects, granting each of them the proper permissions and limitations. The packaging development team can easily and safely access the finished product specifications to refine their prototype.
Aptean Food and Beverage PLM Lascom Edition also provides a secure portal specifically intended for suppliers and all external partners or contractors so they can contribute to your packaging development projects directly in your teams' working environment. This makes it possible to grant everyone their due responsibilities and accountabilities. Setting up access for your raw material suppliers, for example, means they become accountable for the accuracy of product specifications stored on the system.
Aptean Food and Beverage PLM Lascom Edition includes an interactive tool to review and annotate artworks. It provides everyone with a unique and shared vision of how artwork design is progressing, and ultimately eliminates any concerns surrounding sending the packaging to production with the wrong artwork.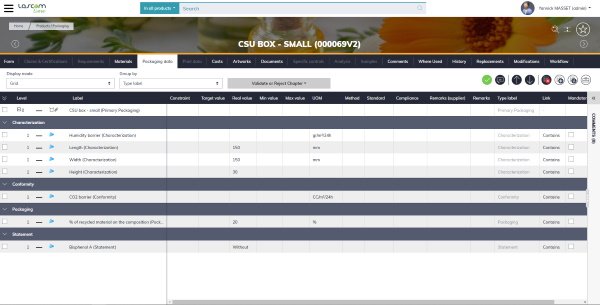 "We don't have the same tools as the new product development team and sometimes fall behind on deadlines."
Do you have on-the-spot access to the progress and bottlenecks of critical ongoing tasks? Can you review proper execution of your processes at the end of the project? Is keeping accurate KPIs cumbersome because of scattered project management data?
Packaging development is a sub-project within any product development. It entails very specific challenges that cannot be met with generic features, yet it must remain fully integrated with the product design chain.
The packaging development solution you choose for your teams must enable you to monitor projects as closely as any other project management solution.
Solution
Synchronize your design chain with responsive project management features
Aptean Food and Beverage PLM Lascom Edition workflow engine orchestrates your packaging development and artwork design processes. You can either follow our field-tested models or implement a version fully customized to your needs. You can define, sequence and assign tasks, track their progress and any associated delays, review and approve proposals, etc.
This data keeps your KPIs, monitoring dashboards and project management Gantt charts updated in real-time. Project Managers can consequently monitor their resources accurately and respond swiftly, whether regarding money, time, or human resources.
"All our artworks are designed externally, and we waste time versioning and transferring files with our partners."
Do you waste time reviewing and commenting on obsolete versions of artwork? Are you able to track the history of an artwork from its creation to the present time? Does your current solution permit safe collaboration on graphics?
You need a packaging management tool allowing your teams and suppliers to work together on and manage any data or file generated, along the entire packaging innovation chain, including artworks. Email threads are not convenient for discussing artworks and surely not everyone in the approval chain has an .ai compatible viewer. You need an environment that can play host to every stakeholder in your packaging development project, whatever their role is, and provide them with a secure and intuitive way to read and use data.
Solution
Enjoy an embedded leading artwork viewer
Aptean Food and Beverage PLM Lascom Edition integrates Dalim Software's "Dialogue Engine" viewer. This highly-regarded soft proofing solution provides many much-need features to finalize and approve all graphical elements of new packaging on time: exact comparison of two artwork items, integration and tracking of freehand written comments, separate views of layers and colors, simulation of the printing process, etc.
With Aptean Food and Beverage PLM Lascom Edition workflows capacities and its embedded viewer, you quickly eliminate needless steps and get rid of all the email chaos, to result in a collaborative and faster working environment, even for complex and visually-rich campaigns.
With Aptean Food and Beverage PLM Lascom Edition, the Packaging team has all the tools at hand to guarantee compliance with marketing, quality, and regulatory requirements.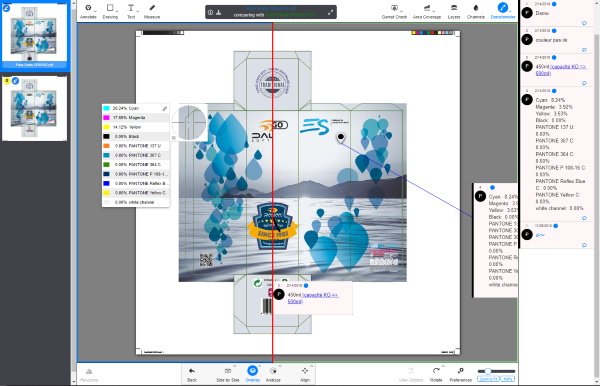 Packaging management:
what our customers say!
"Having features that are specific to each business unit- such as PIF generation for the Regulatory Affairs or artworks viewer for Packaging development- has been life-changing for the teams, as we are saving time and limiting errors."
"Our goal of a single, reliable, and secure source of product information that we can all tap into has been achieved. We're very happy with the support we received from Lascom from Aptean to make this project a success."
"Finally, the visual interface is highly customizable, allowing each user to access a functional and intuitive environment. Naturally, we remain in control of rights management."
Packaging management and graphic chain management: key points
Repository
Repository – The core element of PLM technology is to provide a single and centralized base to manage all product, project, and packaging related specifications. This ensures a single version of the truth.
Collaborative hub
Users are able to send messages to each other, attachments for approval or feedback, or leave comments on artworks or formula prototypes, for instance.
Workflow engine
Aptean Food and Beverage PLM Lascom Edition allows you to model your own processes to set up and streamline the entire flow of information.
Project management
Aptean Food and Beverage PLM Lascom Edition creates a collaborative and dynamic framework with task assignments, notifications, automated reminders, and milestone alerts.
Artwork viewing and proofing
Aptean Food and Beverage PLM Lascom Edition integrates a market-leading proofing software for collaborative design of artworks directly in your packaging management solution.