Food and beverage product development:
Secure and Synchronize Packaging Development
Packaging development faces several challenges such as gathering and harmonizing all parties' documents, access to product and project data from design partners or tracking the history of an artwork from its creation to the present time.
If you ever asked yourself if you have on-the-spot access to the progress and bottlenecks of critical ongoing tasks, or if you review proper execution of your processes at the end of the project and if keeping accurate KPIs cumbersome because of scattered project management data, you should consider a PLM solution. Plus, it will help you to gain time, as you will be able to collaborate on graphics safely.
Read our solution brief to know how our PLM software can help you!
What awaits you:
Easing packaging specification development
Shorten labeling regulatory compliance
Optimize Artwork development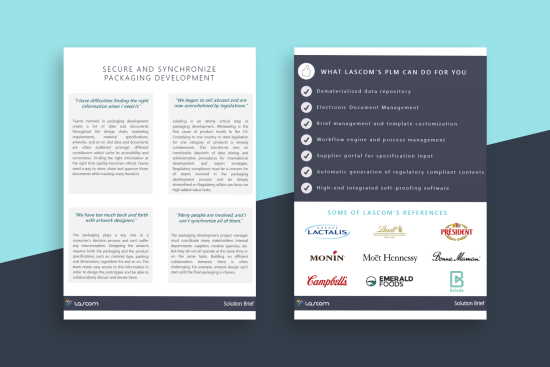 Download the solution brief!