PIM & PLM Serve One Common Goal: The Product Information
Manufacturers and retailers must consolidate all their product information to strengthen their innovation strategy. More and more companies rely on dedicated solutions such as PLM (Product Lifecycle Management) or PIM (Product Information Management) software. However, the often similar descriptions of PLM and PIM technologies, both of which refer to product repositories, keep on confusing CPG (Consumer Packaged Goods) professionals.
PIM and PLM technologies actually work efficiently together in creating a truly continuous information flow throughout the whole product's lifecycle.
Download this white paper to discover the roles, functionalities and complementarities of PIM and PLM solutions, essential to face the new challenges of the CPG sector.
Summary
Introduction
Product Lifecycle Management – PLM
Product Information Management – PIM
PLM: for which purpose?
PIM: for which purpose?
PLM is the main data source for the PIM
How do PLM and PIM software interact?
Architecture for manufacturers
Architecture for retailers
Conclusion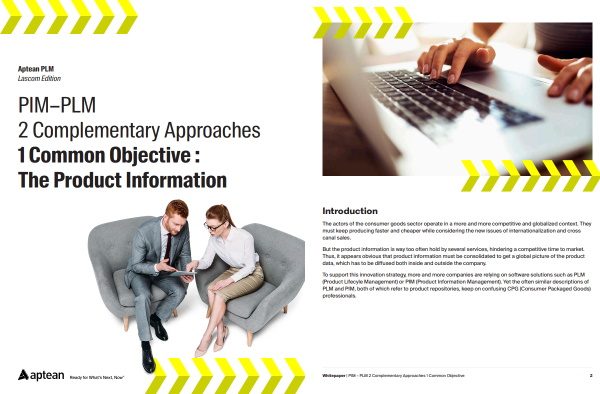 Download the white paper!