Create labels compliant with regulations and your company requirements
Automate QUID calculation and labels generation
Easily translate labels into various languages
Food labeling: complex regulations
Food and beverages products labeling is subject to complex legislation which differs from one country to another. For instance, in the US, companies must comply with the Nutritional Facts Label established by the FDA, whereas in Europe, they need to follow European Regulation 1169/2011. It is challenging for manufacturers and retailers to constantly stay up-to-date with these regulations and ensure that their product labels are regulatory-compliant at any time. Legal aspects are continually evolving, and food labels which do not comply with current legislation can be both costly and damaging for a company and its brand image. Food label compliance is a constant challenge for food and beverage companies.
Solution
Create compliant food labels
The Aptean PLM Lascom Edition labeling tool will automatically generate ingredient statements, allergens statements, and labels to comply with any country's regulations, taking the formulation result as its starting point. For instance, generating a Nutritional Facts Panel (USA), or an EU-compliant label is a simple matter. This drastically reduces the risk of human error (re-entry or overwriting of data, forgetting the recipient, etc.) and frees teams from these laborious tasks of little added value.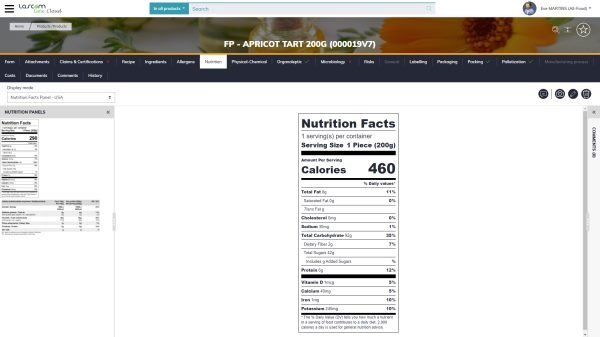 Food and Beverage Labeling software: what our customers say!
"Searching for information is much faster in Aptean PLM Lascom Edition, boosting our productivity."
"Our goal of a single, reliable, and secure source of product information that we can all tap into has been achieved."
"What's most important for us is that the formulation is compliant with the most current version of AAFCO"
Food and Beverages Labeling Software:
what matters
Automation
Automate label generation with European Regulation 1169/2011 and FDA compliant labeling tool and automatically generate lists of ingredients and nutritional values
Repository
Centralize product information and data and guarantee its accuracy
Libraries
Access to USDA and CIQUAL tables
Regulatory compliance
Ensure country-specific compliance
Allergens
Provide presence and list of all allergens