Petsource by Scoular chooses Lascom's PLM
Scoular is a 127-year-old agri-business company based in Omaha, Nebraska. Serving diverse markets such as aquaculture, flour milling, and livestock feeding, Scoular provides global and diverse supply chain solutions for end-users and suppliers of grain, feed ingredients and food ingredients.
With the mission to redefine what start-to-finish looks like in pet food ingredient manufacturing, in 2019 Scoular created Petsource by Scoular, an indirect, wholly owned subsidiary, dedicated to the recipe development, meat processing, freeze-drying and packaging of high-protein ingredients for pet food manufacturers.
Discover why a new pet food brand identified Lascom's PLM as a key competitive asset for customer satisfaction.
Summary :
Initial goals
Business challenges
Organizational aspirations
Technological requirements
Project implementation expectations
Lascom as the legitimate choice
"We wanted something that truly helps with project management, encompasses every aspect of product development, is intuitive for the users, is web-based and can scale up with us. We saw Lascom could offer us all of that!"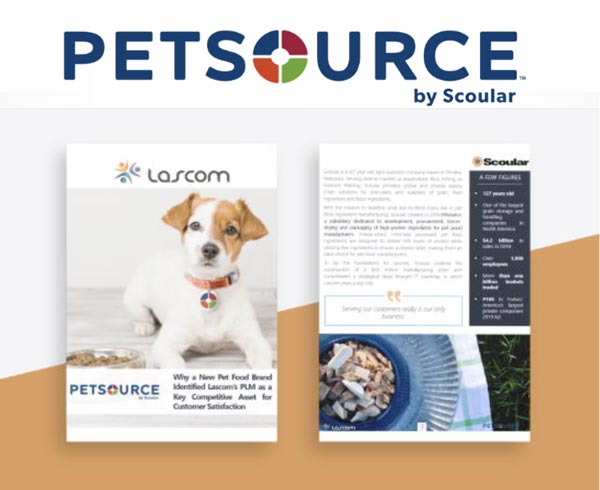 Download the customer story !