How to Accelerate Cosmetic Product Innovation?
In order to remain competitive, cosmetic businesses have to, more than ever, be attentive to market trends and consumer's needs.
With shorter selling cycles, lack of communication between each departments or complicated data management, businesses are looking for a solution able to master new product development and management. Besides these challenges, businesses have to comply with specific and strengthened international and European regulations.
Through this white paper, learn the best practices you need to follow when it comes to product innovation in the personal care and cosmetic industry.
Download this white paper to answer the following questions:
Innovation: key to success in the cosmetic industry
What are the challenges you have to face to improve product innovation?
How to face your challenges?
How to accelerate innovation?

#1 – Centralize product information
#2 – Master New Product Development processes
#3 – Facilitate teams collaboration
#4 – Ease collaboration with suppliers
#5 – Packaging management
#6 – Manage your product portfolio
#7 – Analyze product performance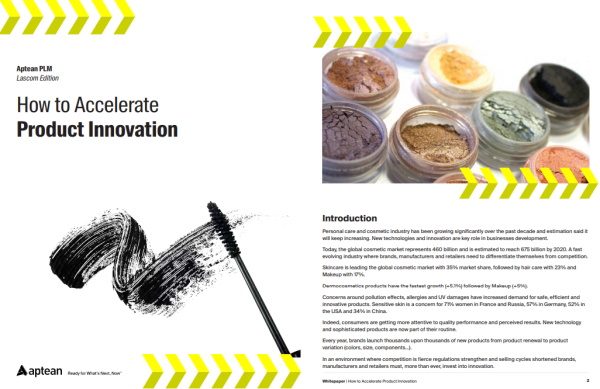 Download the white paper!